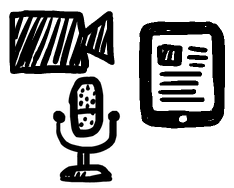 You will complete the following five major projects (70% of your course grade) in this course, along with related drafts and other artifacts. You must complete all five projects to pass the course.
Short Video Recording of about 60 seconds
Audio Recording (with a script) of about 3 minutes
Long Video Recording (with a script) of about 3 to 4 minutes
HTML/CSS Page
HTML/CSS Site with 8 to 10 well-developed pages
All these projects will focus on a topic that you choose to explore for the entire term. Choose something you like and want to investigate or talk about in more detail.
Course Expectation
At the end of the term, you will have created a multi-page HTML/CSS website that communicates with a specific audience about the topic you have chosen. In addition to pages of text, your site will include a short video, an audio recording, and a long video.
Your goal is to create a site that integrates the different projects smoothly. The different assets you create should complement one another and contribute to your overall message.
Focus on Your Interests
Choose a topic that you care about and that you are willing to explore for the rest of the term. You can choose something related to your career plans, a hobby, or a personal interest. These five projects give you the opportunity to invest your energies in a passion project.
Your site can have an actual client (e.g., resources for your sorority's philanthropy), but it's not a requirement.
The example topic list shows possible options. Your choice does not have to be on the list.